Factory Outlet Trailer Sales Carries Only The Top Brands
Tilt Trailers Car Haulers Utility Trailers Flatbed Trailers
Enclosed Trailers Equipment Trailers Dump / Landscape Trailers
Our inventory is constantly changing.
We stock popular styles and brands.
We can order the specific trailer you need, customized to your specifications.
Please visit us and give our trailer specialists the opportunity to find the right trailer for your needs.
One of our trained and experienced staff will work with you to identify the vehicle that meets your needs and budget
Crossover Utility Trailers and Options are Your Choice
There's no law that dictates what a specific type of trailer can be used for. The type and configuration is up to you. Whether it's a stock trailer or custom made, the type and design is what's right for you. Some landscape professionals prefer a combination flat utility trailer with a side ramp for loading and unloading power equipment along with side racks for hand tools and a solid side dump bed at the rear for yard waste. Come in and talk to is about what your needs are and as always, advice if always free.
Factory Outlet Trailers is the source people turn to for all their utility trailer needs.
We're the number one provider of dump and landscape trailers in the area.
New and repeat customers depend on us for reliable products, fair pricing and outstanding customer service.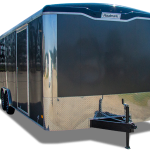 Car Haulers
From classics and antiques to muscle cars, we have the right trailer for your needs. Don't compromise – you need the right trailer for the job at hand. It needs to be not only long enough, but wide enough to make hauling easy and safe. Not all trailers are the same. Besides width and length, you must have a trailer that's designed for the load you're carrying and weight capacity. We can assist you in marrying the right trailer with your hauling needs and the tow vehicle.

Car haulers come in different configurations as well as open and enclosed. Let us help you put together the right combinations of equipment to fit your needs.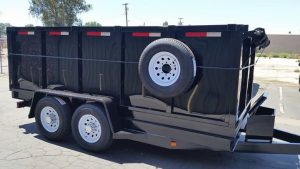 Dump / Landscape Trailer
Dump, or Landscape Trailers is our best selling trailer category. Dump trailers come in a variety of sizes and configurations. These trailers come in a variety of frames, capacities (both weight and volume) plus you have options when it comes to the lifting mechanism of the trailer.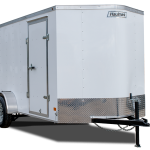 Enclosed Trailers
Enclosed Trailers are often referred to a Cargo Trailers. Their uses range from simply having a need to haul stuff and keep it clean and dry to… well, let your imagination run wild.
Enclosed Trailers are great for hauling household goods, camping supplies, youth camp items and boxed or loose cargo that doesn't have to be tied down. Unlike open trailers, you can often simply load and go. There's no requirement for carefully loading and securing everything with netting and straps to the trailer deck to keep things for flying away.
Security – Unlike open deck trailers, you're afforded a reasonable amount of security with an enclosed trailer. Enclosed trailers can be equipped with additional security components to assist in the security of the contents. Another great thing about enclosed trailers is no that no one but you knows what's inside.
Protection – While a trailer is a trailer as far as deck space goes, an enclosed trailer offers the security as mentioned above plus items are out of sight. Some people chose to use enclosed trailers for additional storage or a tool shed. Have a mountain cabin and need your tools both at home and there? An enclosed trailer may be the answer.
Imagination Run Wild – Yes, there is almost no limitations on what you can use an enclosed trailer for. Take a look at Pinterest and you will see all kinds of ideas – from a mobile She Shed or He Shed to a Bug-Out trailer.
Equipment Trailers
Equipment Trailers are useful and can be dedicated to a specific piece of equipment or for general purpose. Depending on what you're hauling, what's going to be pulling the trailer, Gross Vehicle Weight, etc., many things must be considered. From hauling lawn or construction equipment to building supplies, we have the right trailer for your needs.

Flatbed Trailers
Flatbed Trailers are useful for hauling oversize or bulky items such as construction supplies, lumber, large pipe and machinery. They're available in standard configuration and goose necks that are used with 5th wheel units.
Tilt Trailers

Unlike traditional fixed deck trailers, a tilt trailer has a tilting deck for easy on and off loading. Not all tilt trailers are equal. Both tilt and non-tilt trailers will do the job. Ramp trailers are exactly that – you need ramps or some way to get cargo on and off the trailer deck. If you use ramps, you will need to store them either on or under the trailer or carry them in the tow vehicle.
Tilt Trailers tilts while the primary trailer frame stays stationary and fixed. Special consideration must be given to the locations where you will be loading and off loading the cargo (vehicle). You need to consider ground slope, clearances and a host of other safety concerns. Talk with us first if you're considering, or have a need for a tilt trailer.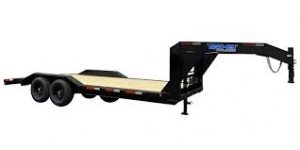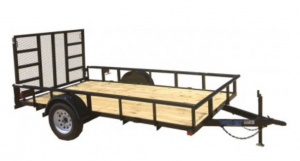 Utility Trailers
Utility Trailers are at the heart of the trailer business. They're used by commercial businesses as well as your average Joe. A business may use the utility trailer as a job trailer, hauling supplies or making deliveries. People use utility trailers for hauling camping items, moving, ATVs, and the list can go on forever. There is an endless array of utility trailers to choose from – short, long and in-between – no sides, short sides, high sides – wood decking, steel decking, or expanded metal decking, ramps, no ramps and so forth. It's worth a visit to Factory Outlet TrailerSales to look at options and discuss them with people that have experience.