The Jobsite Cargo Trailer
- Keep supplies safe and secure at the job site with this steel-framed, heavy-duty trailer. Designed specifically for contractors, it includes heavy-duty components throughout, to ensure safe job site storage and long service life.
The Jobsite Office Trailer

- Job site office and storage space are rolled into one in this steel-framed trailer. The office features paneling, desk with file cabinet, planning table, heating and air conditioning, plus 110-volt lighting - and four windows. The rear 20-foot area is ready for storage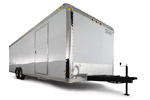 Haulmark "Edge" Racing Trailer


You need that edge to be in the winner's circle - Haulmark's got it. Our best aluminum skin trailer just got better. A trailer of choice for serious race teams, our new Edge comes complete with aluminum wheels, a racer's package, a deluxe electrical package, LED exterior lights, workbench and cabinets. You can also include living quarters.
---


Haulmark
"Edge Gooseneck/5th Wheel" Race Trailer
Presenting the trailer of choice for the serious race team, Edge Gooseneck/Fifth Wheel is available in a variety of lengths for your race vehicle needs. Some are long enough for two cars, or one car with living quarters, cabinet package and workshop. Its edgy racing features include an aluminum-framed 4-foot curbside door, aluminum racing wheels and stainless steel front corners and top cap. (Shown with short upper deck.)
---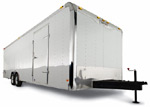 Haulmark Race Trailer

Haulmark raises the bar again. With its functional design and value-intensive construction, this is an ideal trailer if you're looking for a hard-working, tag hitch race car hauler. And now it has more standard features than competing brands. Like one piece aluminum roof, a full 94-inch rear ramp door width, L.E.D. exterior taillights, white vinyl interior walls and ceiling, polished aluminum curved front cap, chrome corners, a 24-inch stone guard and 16-inch centers on all frame crossmembers, wall studs and roof bows. Available up to 36 feet in length, you can haul one car with plenty of room left over for tools, parts and equipment. With features like torsion suspension, radial tires and optional third axle, the Race Trailer has everything you need for taking your car to the track.
---
Haulmark Transport Race Trailer
This smart value tag trailer is designed for auto hauling. It's available in several lengths for transporting one car with the extra space you desire for parts and accessories. With features like EZ-lube axles and electric brakes, trailer rated tires and a sturdy, 3/4-inch plywood floor, this trailer is fully equipped to go the distance.
---

Haulmark V-Nose Car Hauler
Outside, it's aerodynamic. Inside, it opens up more storage space in the front end. These features make the V-Nose car carrier a perfect premium trailer for your show cars. Available in lengths up to 28 feet, you have plenty of space for additional equipment. The trailer features an aluminum front end plus special features like white vinyl ceiling liner and stone guard protection.
---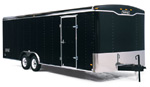 Haulmark "Thrifty" Car Hauler
Here's a hardworking tag hitch car transport that's perfect for frequent show car hauling. With lengths up to 29 feet and GVW's up to 10,000 lbs., you'll have all the interior space and weight capacity you need for transporting your car plus parts, tools and equipment. We also included extra features for easy loading and easy access.
---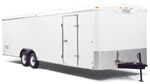 Haulmark Transport Car Carrier
The value level Transport Car Carrier tag hitch trailer is ideal for moderate auto hauling. Designed to transport one car, it's available in several lengths, assuring you the space you need for parts, equipment and supplies. What's more, features like beavertail floor and a rear ramp door make loading and unloading easier.
---
---